[caption id="attachment_1822" align="alignright" width="300"]
The Agenda Timing tool lets you adjust the time associated with any item, or delete it entirely.[/caption] The Agenda Timing tool allows you to quickly adjust the timing of different parts of your agenda, without restructuring the entire event document or template in the WordPress editor (see 
How to Modify an Existing Agenda Event or Template).
Agenda Timing is one of the choices under the Agenda Setup menu you see when you are logged in and viewing a meeting on the front end of the website. If the event is based on a template, you will also see Agenda Timing: Template as a choice -- the option you would choose to change the standard timing plan for your meetings. This tool lets you change the amount of time allocated for a Role or an Agenda Note (like the 5 minutes associated with the instruction "After Table Topics, we take a 5-minute break"). For speeches, evaluations, and any other roles filled by more than one member, the time estimate is for the entire block. For example, you might allow 24 minutes for a block of 3 speeches, leaving room for two 7-minute speeches and one of up to 10 minutes. In the example shown in the video below, a member has reserved time for an advanced speech project that will take considerably more time than the standard 5-7 minutes. To allow that to happen, we adjust the total time allowed for speeches and drop Table Topics from the agenda entirely.
Watch on YouTube: https://youtu.be/i6WuWhseZlY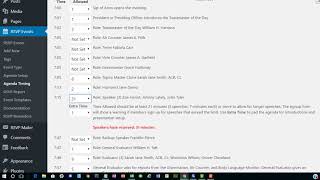 Another common way of handling this situation might be to allow the long speech but change the plan for this meeting from 3 speeches and 3 evaluators to 2 speeches and 2 evaluators and adjust the timing accordingly. A control at the bottom of the Agenda Timing tool lets you change the number of speakers and evaluators simultaneously. As you make your choices, the times in the Time Elapsed column will change to show how your time allocations are adding up. The goal is to make it easier for you to plan a meeting that runs on time. It's still up to you to make realistic estimates of how long different phases of the meeting will take -- and then discipline your members to stick to those times. This tool works well when:
You want to quickly change the time estimates
You may want to drop a role or a note but do not need to add either
You do not need to make any deeper structural changes, such as reordering items
If you instead want to reorganize the whole agenda, or restructure your standard template, follow the instructions under 
How to Modify an Existing Agenda Event or Template
. Example: you not only want to change the time estimates but you want to move Table Topics to the end of the meeting, so you can fit it in if there is time or drop it if other parts of the meeting run long.
This is part of a series of How to Do X posts that explain how to perform discrete tasks with the WordPress for Toastmasters solution.